Soap-making-resource.com - Complete Soap Making Supplies and Tutorial Resource
Popularity:
Language: english
Soap making is an absolute blast. Here you will find recipes, strategies, tips, and, of course, quality soap making supplies. Learn everything there is to know about making soap at home today.
Keywords: Soap Making Supplies
Category: Fun and Games
Share your experience:
Safety and classification
The website doesn't contain questionable content. It can be used by kids and is safe for work.
Attribute
Classification
Safe for children

?

The content of the website is classified as safe for children.
Safe for work

?

It is safe to visit this website from workplace.
Reviews, potential indications of suspected fraud, seriousness or potentially dangerous software (malware) can be found here: Soap-making-resource.com reviews
Content and keywords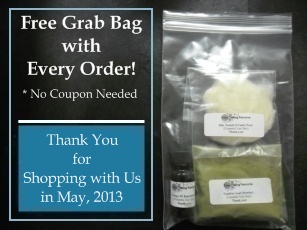 Soap Making Resource is the owner of the copyright for this website.
Important and popular websites
Important pages are Free Grab Bag, Annatto Seeds Colorant Tutorial and Calendula Soap Recipe. In the following table you'll find the 10 most important pages of Soap-making-resource.com:
#
Description

?

URL of the website

?

1.
Free Grab Bag
/essential-oils-news.html
2.
Annatto Seeds Colorant Tutorial
/annatto-seeds-soap-making.html
3.
Calendula Soap Recipe
/calendula-soap-recipe.html
4.
Comfrey Leaf Colorant Tutorial
/comfrey-soap-making.html
5.
Honey Oatmeal Soap Recipe
/honey-oatmeal-soap-recipe.html
6.
Shaving Soap Recipe
/shaving-soap-recipe.html
7.
Madder Root Colorant Tutorial
/madder-root-soap-making.html
8.
Click here to send me a message
/questions-or-comments.html
9.
Tea Tree Oil Soap Recipe
/soap-making-instructions.html
10.
Melt and Pour Soap Making Instructions
/melt-and-pour.html
Similar websites
Based on the keywords Complete, Tutorial and Resource Webwiki was able to find websites similar to Soap-making-resource.com. The following lists shows similiar websites.
For more similar websites with the keywords Complete, Tutorial, Resource or Soap use the following link:
Technical information
The web server used by Soap-making-resource.com is located near the city of Montréal, Canada and is run by Netbx Technologies. The website Soap-making-resource.com has a own web server. The web server only runs this website.
The websites of Soap-making-resource.com are served by a Apache server. The markup language of the website is HTML 4.01 Transitional. The visitor analysis software Google Analytics is used to analyze the visitors of the websites. Both the inclusion of the website in search engines and follwoing of its hyperlinks is explicitly allowed.
Information about the server of the website
| | |
| --- | --- |
| IP address: | 66.43.59.40 |
| Server provider: | Netbx Technologies |
Technical information about the technology of the website
| | |
| --- | --- |
| Webserver software: | Apache |
| Load time: | 0.68 seconds (faster than 51 % of all websites) |
| HTML version: | HTML 4.01 Transitional |
| Robot information: | all |
| Filesize: | 51.41 KB (2097 recognized words in text) |
| Visitor Tracking/analysis: | The website uses Google Analytics to analyze the visitors. |
Customer Reviews of Soap-making-resource.com
No reviews and ratings found
Top search words for Soap-making-resource.com
complete
home
know
learn
making
molds
natural
quality
recipes
resource
soap
soapmakingresource
supplies
tips
today
tutorial
Links to Soap-making-resource.com