Sgt3r.com - Scooters GT 3 roues - Portail
Popularity:
Language: french
Portail : Forum Scooters GT 3 roues. Le N°1 des forums dédiés aux scooters 3 roues. Tout sur l'utilisation, l'entretien et les pannes des maxiscooters trois roues. Piaggio Mp3, Yourban, Gilera Fuoco, Peugeot Me
Keywords: Forum Peugeot Gilera Fuoco Yourban Quadro Metropolis Metropois mp3 Lt 500ie Piaggio Rl 400ie 250ie 300ie
Share your experience:
Safety and classification
The website doesn't contain questionable content. It can be used by kids and is safe for work.
Attribute
Classification
Safe for children

?

The content of the website is classified as safe for children.
Safe for work

?

It is safe to visit this website from workplace.
Reviews, potential indications of suspected fraud, seriousness or potentially dangerous software (malware) can be found here: Sgt3r.com reviews
Content and keywords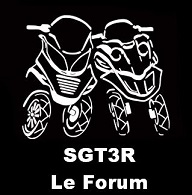 Important keywords for search marketing
For the website Sgt3r.com 4 relevant online advertising keywords and phrases were found. The search volume is medium. The average competition by other websites for getting visitors is medium. The amount the website has to pay for a visitor ranges between 0.20 and 0.80 dollars. The following table shows the relevant keywords for search engine marketing:
Search word
Search Volume

?

Competition

?

Cost per click

?

Scooters
very high
high
0.70 to USD 0.80
Piaggio
high
low
0.30 to USD 0.40
Piaggio scooters
medium
high
0.20 to USD 0.30
Gilera scooters
very low
medium
0.20 to USD 0.30
Note: The table data, in particular click prices, may vary depending on the time of day, day of week and origin of the visitor. Webwiki is not responsible for the accuracy of the data.
Technical information
The web server used by Sgt3r.com is run by OVH Hispano and located in Spain. On this web server 48 other websites are hosted. The language of those websites is mostly french.
XHTML 1.0 Transitional is used as markup language on the webpages. To analyze the visitors, the websites uses the analysis software Google Analytics. The website forbids search engines and webcrawlers using the description of the website from the Open Directory project. Indexing the data of the website and following hyperlinks on it is explicitly allowed by robot information.
Information about the server of the website
| | |
| --- | --- |
| IP address: | 178.33.115.32 |
| Server provider: | OVH Hispano |
| Number of websites: | 49 - more websites using this IP address |
| Best-known websites: | Nextgen-forum.com (a bit known), Touchdownblue.com (little known), Deannadurbindevotees.com (little known) |
| Language distribution: | 35% of the websites are french, 33% of the websites are english, 10% of the websites are spanish, 6% of the websites are german, 4% of the websites are portuguese, 4% of the websites are russian, 2% of the websites are italian |
Technical information about the technology of the website
| | |
| --- | --- |
| Load time: | 0.4 seconds (faster than 74 % of all websites) |
| HTML version: | XHTML 1.0 Transitional |
| Robot information: | index, follow, noodp |
| Filesize: | 66.52 KB (697 recognized words in text) |
| Visitor Tracking/analysis: | The website uses Google Analytics to analyze the visitors. |
Customer Reviews of Sgt3r.com
No reviews and ratings found
Top search words for Sgt3r.com
400ie
4d
forum
forums
fuoco
gilera
gt
mp3
passion
piaggio
portail
quadro
roues
scooters
sgt3r
yourban