Krazydad.com - Printable Puzzles by KrazyDad
Popularity:
Language: english
Printable puzzles. Thousands of 'em. All free.
Keywords: puzzles logic puzzle krazydad sudoku printable print
Share your experience:
Krazydad.com was added to the Webwiki directory 2 years ago. The information of the entry was updated 1 week ago.

In the Webwiki directory since: February 09, 2012
Content and keywords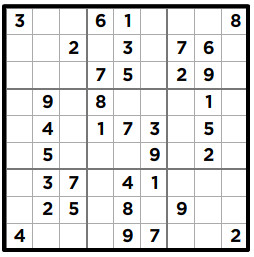 Krazydad.com provides information about an activity.
Important and popular websites
Important pages are Blog, Publications and Puzzles. The Krazydad.com blog is located at: http://krazydad.com/blog/contact-krazydad/. - Visit the blog page
In the following table you'll find the 10 most important pages of Krazydad.com:
#
Description

?

URL of the website

?

1.
Blog
/blog/
2.
Publications
/pubs/
3.
Puzzles
/
4.
Fun & Games
/fungames.php
5.
About
/about.php
6.
Sudoku My original collection has tons of printable sudoku puzzles.
/sudoku/
7.
Kakuro Kakuros are also known as Cross Sums - numeric crossword puzzles.
/kakuro/
8.
Killer Sudoku Challenging puzzles that combine Sudoku Kakuro strategies.
/killersudoku/
9.
Variety Slitherlink Beautiful spatial-reasoning puzzles for the discriminating solver.
/slitherlink/variety.php
10.
Mazes Assorted mazes animal mazes and dinosaur mazes - perfect for bored kids!
/mazes/
Important keywords for search marketing
For the website Krazydad.com 10 relevant online marketing keywords and phrases were found. The search volume is very high. The average competition by other websites for getting visitors is very low. The amount the website has to pay for a visitor ranges between 0.10 and 0.70 dollars. Because of the low click prices (on average 0.43 dollars) and the low amount of competitors the barriers to market entry are very low. The following table shows the relevant keywords for search engine marketing:
Search word
Search Volume

?

Competition

?

Cost per click

?

Puzzles
very high
low
0.30 to USD 0.40
Puzzles for kids
high
medium
0.40 to USD 0.50
Printable sudoku puzzles
medium
low
0.10 to USD 0.20
Sudoku puzzle
high
low
0.10 to USD 0.20
Sudoku puzzles
high
low
0.10 to USD 0.20
Logic puzzle
high
very low
0.40 to USD 0.50
Puzzle
very high
low
0.30 to USD 0.40
Puzzle for kids
high
medium
0.50 to USD 0.60
Favorite t
medium
very low
0.60 to USD 0.70
Kids
very high
low
0.60 to USD 0.70
Note: The table data, in particular click prices, may vary depending on the time of day, day of week and origin of the visitor. Webwiki is not responsible for the accuracy of the data.
Worth knowing about Krazydad.com: A puzzle is a problem or enigma that tests the ingenuity of the solver. In a basic puzzle, one is intended to put together pieces in a logical way in order to come up with the desired solution. read more
Similiar websites
Based on the keywords Puzzles, Puzzle and Logic Webwiki was able to find websites similar to Krazydad.com. The following lists shows similiar websites.
For more similar websites with the keywords Puzzles, Puzzle, Logic or Slitherlink use the following link:
Safety and classification
The website doesn't contain questionable content. It can be used by kids and is safe for work.
Attribute
Classification
Safe for children

?

The content of the website is classified as safe for children b>.
Safe for work

?

It is safe to visit this website from workplace.
Reviews, indications of suspected fraud, seriousness or potentially dangerous software (malware) can be found here: Krazydad.com reviews
Technical information
The web server with the IP-address 67.205.38.89 used by Krazydad.com is owned by New Dream Network, LLC and is located in Brea, USA. This web server runs a few other websites, mostly in the english language.
The websites of Krazydad.com are served by a Apache server. The HTML pages were created with the latest standard HTML 5. To analyze the visitors on the websites the following analysis software products are used: Google Analytics and Quantcast. The website does not specify details about the inclusion of its content in search engines. For this reason the content will be included by search engines. In order to display ads the Google Adsense advertising network is used.
Information about the server of the website
| | |
| --- | --- |
| IP address: | 67.205.38.89 |
| Server provider: | New Dream Network, LLC |
| Number of websites: | 9 - more websites using this IP address |
| Best-known websites: | Whitneymusicbox.org (little known) |
| Language distribution: | 89% of the websites are english |
Technical information about the technology of the website
| | |
| --- | --- |
| Webserver software: | Apache |
| Load time: | 0.44 seconds (faster than 71 % of all websites) |
| HTML version: | HTML 5 |
| Filesize: | 16.53 KB (294 recognized words in text) |
| Visitor Tracking/analysis: | The website uses Google Analytics and Quantcast to analyze the visitors. |
Reviews and ratings for Krazydad.com
No reviews and ratings found
Top search words for Krazydad.com
as
cross
daily
favorite
japan
jim
kids
known
krazydad
logic
or
personal
printable
puzzle
puzzles
sudoku