Espncricinfo.com - Live cricket scores, commentary, match coverage | Cricket news, statistics | ESPN Cricinfo
Popularity:
Language: english
ESPN Cricinfo provides the most comprehensive cricket coverage available including live ball-by-ball commentary, news, unparalleled statistics, quality editorial comment and analysis
Keywords: ESPN cricinfo ESPNcricinfo cricket news live scores ipl ashes sachin tendulkar ball by commentary harsha bhogle ian chappell
Category: News
Share your experience:
Espncricinfo.com was added to category News of the Webwiki directory 2 years ago. The data of the entry Espncricinfo.com was updated on February 26, 2014.

In the Webwiki directory since: February 13, 2012
Content and keywords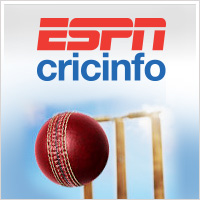 ESPNcricinfo is a sports news website devoted entirely to the sport of cricket. The site features .. read more
Espncricinfo.com presents an article about a specific topic.
Important and popular websites
The website with the homepage "Espn Cricinfo" provides content on the pages Sachin Tendulkar, Virat Kohli and Asia Cup. In the following table you'll find the 10 most important pages of Espncricinfo.com:
#
Description

?

URL of the website

?

1.
ESPN Cricinfo
/
2.
Sachin Tendulkar
/india/content/player/35320.html
3.
Virat Kohli
/india/content/player/253802.html
4.
Asia Cup
/asia-cup-2014/content/current/series/671665.html
5.
Series
/ci/content/current/match/fixtures_futures.html
6.
Ipl
/indian-premier-league-2014/content/current/series/695871...
7.
West Indies v England
/west-indies-v-england-2013-14/content/current/series/6365..
8.
South Africa v Australia
/south-africa-v-australia-2013-14/content/current/series/6..
9.
ICC Under-19 World Cup
/icc-under-19-world-cup-2014/content/current/series/700273..
10.
Australia
/australia/content/current/team/2.html
Important keywords for search marketing
For the website Espncricinfo.com 9 relevant search engines marketing keywords and phrases were found. The search volume is very high. The average competition by other websites for getting visitors is very low. The amount the website has to pay for a visitor ranges between 0.10 and 9.00 dollars. The following table shows the relevant keywords for search engine marketing:
Search word
Search Volume

?

Competition

?

Cost per click

?

Cricket live
high
very low
0.20 to USD 0.30
Cricket live match
medium
low
0.10 to USD 0.20
Cricket live video
low
low
0.30 to USD 0.40
Cricket match
medium
low
0.10 to USD 0.20
Cricinfo
high
very low
0.40 to USD 0.50
Cricinfo live
medium
very low
0.30 to USD 0.40
Scores and fixtures
very low
very low
0.10 to USD 0.20
Apr
high
low
8.50 to USD 9.00
Match
very high
low
0.30 to USD 0.40
Note: The table data, in particular click prices, may vary depending on the time of day, day of week and origin of the visitor. Webwiki is not responsible for the accuracy of the data.
Similiar websites
Based on the keywords Cricket, Scores and Espn Webwiki was able to find websites similar to Espncricinfo.com. The following lists shows similiar websites.
Please use the following link to find more similar websites with the keywords Cricket, Scores, Espn or Match.
Safety and classification
The website doesn't contain questionable content. It can be used by kids and is safe for work. Shalla List classifies Espncricinfo.com as sport website.
Attribute
Classification
Safe for children

?

The content of the website is classified as safe for children b>.
Safe for work

?

It is safe to visit this website from workplace.
Reviews, indications of suspected fraud, seriousness or potentially dangerous software (malware) can be found here: Espncricinfo.com reviews
Technical information
The web server used by Espncricinfo.com is located in Cambridge, USA and is run by Akamai Technologies. This web server runs 8 other websites, their language is mostly english.
A Apache server hosts the websites of Espncricinfo.com. XHTML 1.0 Transitional is used as markup language on the webpages. Indexing the data of the website and following hyperlinks on it is explicitly allowed by robot information.
Information about the server of the website
| | |
| --- | --- |
| IP address: | 23.14.94.27 |
| Server provider: | Akamai Technologies |
| Number of websites: | 9 - more websites using this IP address |
| Best-known websites: | Espncricinfo.com (completely known), Mousebreaker.com (well known), Wlap.com (known) |
| Language distribution: | 89% of the websites are english, 11% of the websites are spanish |
Technical information about the technology of the website
| | |
| --- | --- |
| Webserver software: | Apache |
| Load time: | 0.04 seconds (faster than 99 % of all websites) |
| HTML version: | XHTML 1.0 Transitional |
| Robot information: | index, follow |
| Filesize: | 217.58 KB (2195 recognized words in text) |
Technical contact of the website
Contact for the ip address 23.14.94.27
NTT America, Inc.
8300 E Maplewood Ave.
Suite 400
Greenwood Village
80111
USA

Contact for the domain Espncricinfo.com
Enterprises, Disney
3 Queen Caroline Street Hammersmith
London W6 9PE
Great Britain
+36.15551219 Fax: +36.15551280

Reviews and ratings for Espncricinfo.com
No reviews and ratings found
Top search words for Espncricinfo.com
apr
content
cricinfo
cricket
england
espn
espncricinfo
gmt
home
ipl
live
local
match
news
scores
statistics
Links to Espncricinfo.com