Saturday, October 10, 2015
Crabhawk.com - Crab and Lobster Catchers for Crabbing - CrabHawk
Popularity:
Language: english
CrabHawk is a castable Crab Catcher used with a rod and reel. It's used from land, pier, boat, or kayak. CrabHawk is the latest craze in sport crabbing.
Keywords: Crab Traps Trap Crabbing Leg Snare Regulations Saltwater Catcher Cooking Pier Jetty Dock Boat Fishing Blue Box Dungeness Swimmer Snow King Pincher Soft Shell Red Rock Meat Lobster Feed Derby Tournament Trot Line Feast Reusable Zipties Zip Ties Cable
Share your experience:
Safety and classification
The website doesn't contain questionable content. It can be used by kids and is safe for work. Shalla List classifies Crabhawk.com as onlineshop.
Attribute
Classification
Safe for children

?

The content of the website is classified as safe for children.
Safe for work

?

It is safe to visit this website from workplace.
Reviews, potential indications of suspected fraud, seriousness or potentially dangerous software (malware) can be found here: Crabhawk.com reviews
Content and keywords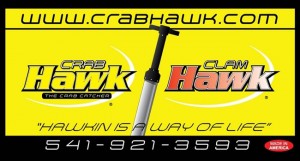 Important and popular websites
Important pages are Store, Crabbing Regulations and Cleaning & Cooking Crab. In the following table you'll find the 10 most important pages of Crabhawk.com:
#
Description

?

URL of the website

?

1.
Store
/store/
2.
Crabbing Regulations
/crabbing-regulations/
3.
Cleaning & Cooking Crab
/cleaning-cooking-crab/
4.
CrabHawk FAQ
/crabhawk-faq/
5.
Clamming Regulations
/clamming-regulations/
6.
Clamming Dates
/clamming-dates/
7.
Cleaning & Cooking Clams
/cleaning-cooking-clams/
8.
Clamming FAQ
/clamming-faq/
9.
News
/news/
10.
Photos
/photos/
Important keywords for search marketing
For the website Crabhawk.com 3 relevant online advertising keywords and phrases were found. The search volume is very high. The average competition by other websites for getting visitors is medium. The amount the website has to pay for a visitor ranges between 0.40 and 1.50 dollars. The following table shows the relevant keywords for search engine marketing:
Search word
Search Volume

?

Competition

?

Cost per click

?

Used
very high
high
1.10 to USD 1.20
Cooking
very high
low
1.40 to USD 1.50
Cooking and recipes
high
low
0.40 to USD 0.50
Note: The table data, in particular click prices, may vary depending on the time of day, day of week and origin of the visitor. Webwiki is not responsible for the accuracy of the data.
Similar websites
Based on the keywords Crab, Lobster and Dungeness Webwiki was able to find websites similar to Crabhawk.com. The following lists shows similiar websites.
Please use the following link to find more similar websites with the keywords Crab, Lobster, Dungeness or .
Technical information
The web server used by Crabhawk.com is located in Woodinville, USA and is run by Comcast Cable. This web server runs 4 other websites, their language is mostly english.
A Apache server hosts the websites of Crabhawk.com. The website uses the shop software system WooCommerce XHTML 1.0 Transitional is used as markup language on the webpages. The website does not specify details about the inclusion of its content in search engines. For this reason the content will be included by search engines.
Information about the server of the website
| | |
| --- | --- |
| IP address: | 50.194.63.146 |
| Server provider: | Comcast Cable |
| Number of websites: | 5 - more websites using this IP address |
| Best-known websites: | Westportgrayland-chamber.org (a bit known) |
| Language distribution: | 100% of the websites are english |
Technical information about the technology of the website
| | |
| --- | --- |
| Webserver software: | Apache |
| Cms-Software: | WordPress, Version 4.2.2 |
| Load time: | 1.86 seconds (slower than 85 % of all websites) |
| HTML version: | XHTML 1.0 Transitional |
| Filesize: | 28.9 KB (982 recognized words in text) |
Customer Reviews of Crabhawk.com
No reviews and ratings found
Top search words for Crabhawk.com
castable
catcher
cooking
crab
crabbing
crabhawk
dock
fishing
leg
lobster
recipes
rod
ties
trap
traps
used